The Green Tips Blog! 
"WHAT'S IN A BLOG? WOULD INFORMATION BY ANY OTHER NAME INFORM AS WELL?"
The GREEN TIPS BLOG!
March 15, 2019
Heavy Duty Hoses With Aluminum Connections?

A word of warning to homeowners buying heavy duty hoses with all ALUMINUM connections-see below: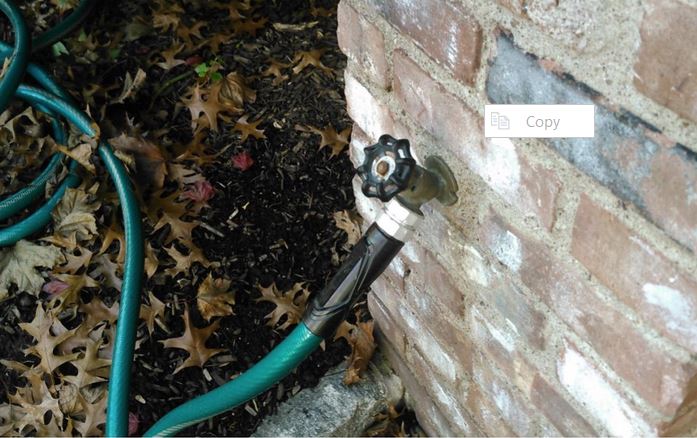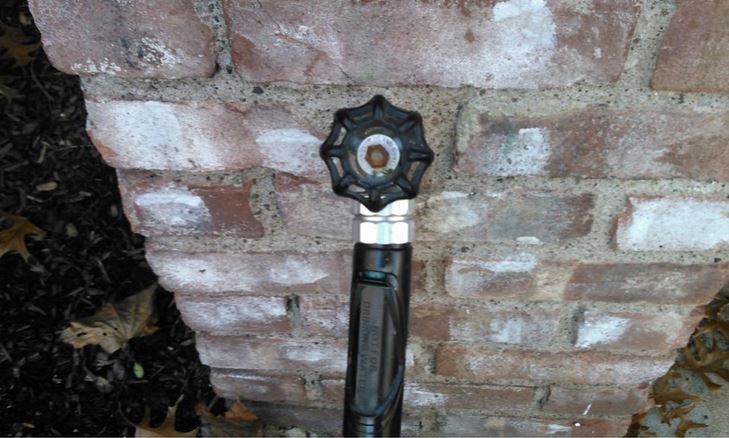 You'd better use Teflon tape and a good grease because ALUMINUM AND BRASS DO NOT GO TOGETHER!!! 

Even these precautions are only a stopgap.

Why you ask?  Aluminum normally corrodes VERY Slowly over VERY Long periods of time.  You won't notice any issues for decades with almost any STAND-ALONE aluminum that is not in contact with another metal. 
The problem starts with the cathodic reaction (which is a corrosive reaction where hydrogen ions break down to hydrogen gas and their electrons flow to a conductor-in this example the brass). The nature of the brass as a cathode will ensure that after a short time your new over top expensive garden hose will be permanently joined to your hose bib (and by extension your house).

Get ready to call your plumber to replace the hose bib and DO NOT REORDER AN ALUMINUM FITTED GARDEN HOSE!!

In the future marry BRASS to BRASS or BRASS to Plastic. 
Why a company would sell these is anyone's guess-and it is costing consumers BIG TIME!

---
March 10. 2019

Rain, rain, go away - Come again another day

And the rains keep falling…AGAIN this past 2018!

It seemed like every 3-5 days another 1, 2, 3 or more inches fell from the sky.  No one needed their irrigation systems but don't think this pattern will continue.  Weather has become more unpredictable long term and shows no sign of this predictability problem abating anytime soon.

The soil profiles everywhere were super saturated last year except for the four weeks from late June to late July.  When this occurs, plants struggle in many ways such as lack of air in the root zone which in turn causes stunting and rot.  Another problem is the leaching (washing out) of essential nutrients that the plants depend upon causing all manner of health stress.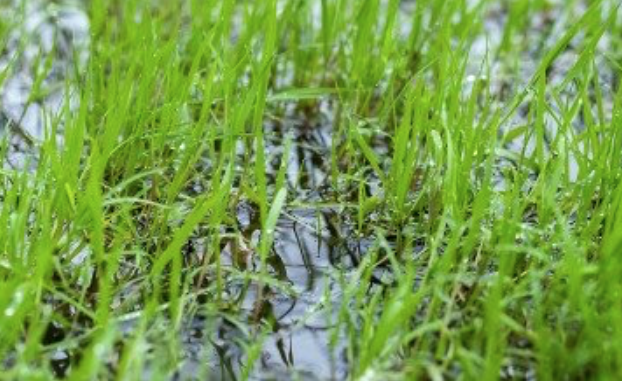 During 2018 many of the irrigation systems in use added to this problem by watering when it was obvious that no additional irrigation was needed.  Systems equipped with simple Rain Sensors provided a false sense of security in that the sensors would always dry out before the soil and allow an irrigation cycle to start.  During 2018 this amounted to a huge amount of wasted water-all of which could have been saved (along with the money spent paying for it).

If you haven't done so yet please visit two other pages on this site for advice and products that will save you water AND money.  The return on your investment is a fast 1-2 years depending on property size and of course the unpredictable weather itself.


So-what are you waiting for?   Since you are already in the site head over to the "Our Services" menu or just click on Water Saving Smart Irrigation Products. But don't stop there - also click on
WiFi and Cellular Connected Water Saving Irrigation Controller Videos.

You owe it to yourself, your landscaping and your wallet to at least consider upgrading your irrigation system to maximized water conservation. As the saying goes:

Money saved is money earned!

---
March 1, 2019
 The time is approaching to get out there and prune back woody shrubs and trees…especially if your plants need a MAJOR pruning.
      Trees, woody ornamentals, grasses-the time is near.  There are many reasons to prune such as removing branch weight, shaping, maintaining plant health by redirecting plant energies or just because not enough light is reaching the inside of the canopy.  Dead wood removal is another reason but plan to repeat the dead prune again in mid to late Summer-it will hopefully reduce or eliminate the need for dead branch pruning the following late Winter.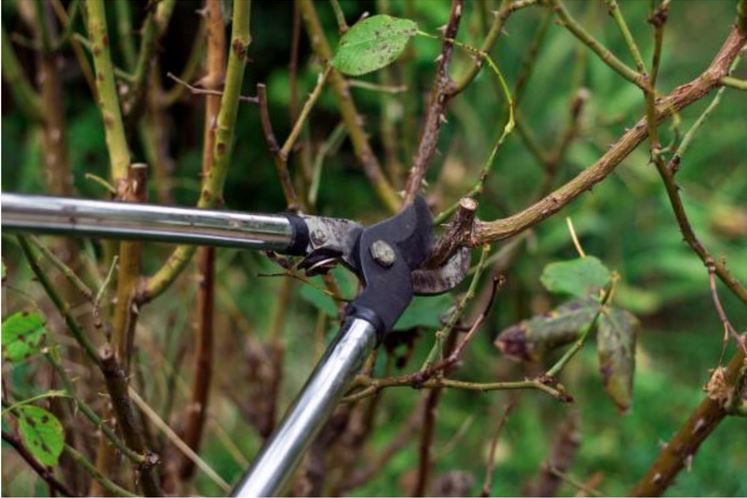 Timing is important here-for example late Fall is NOT the time to prune since there is not enough time for branch wounds to harden before transpiration ceases with the onset of colder temperatures.  When one prunes too late in the year desiccation and disease infiltration can occur.  With deciduous plant and trees, you most likely will not see any damage until Spring but there will be consequences.  I cringe every time I see landscape crews out trimming and pruning just before Thanksgiving-I wonder what they were waiting for when their actions go against every horticultural best management practice.
So what trees, shrubs and grasses should be pruned now?  Pretty much any tree and in particular fruit trees to get them ready to bear the weight of their bounty and to do so before any flower budding happens.  Remember to also look down at the root flair-late Winter is the perfect time to remove girdling roots:
     For both your deciduous and evergreen woody ornamentals such as Barberry, Spirea, Inkberry, Bayberry, Taxus, Juniper, Arborvitae, Boxwood (to name a few on a very long list) any action from minor shaping to major prune back is perfectly fine.  Please remember to give thought to a time frame for each to recover to their best appearance-what that means is some ornamentals such as Barberry and Spirea will fill in in a matter of one to two Spring months after a severe cut back but Taxus and Boxwood will take longer-sometimes measured in years.  Others such as certain Hydrangeas will produce different size flowers and have a different degree of sturdiness (such as after heavy rains) depending on how much old and sturdy stem is left in place.
         For decorative grasses of any size leave the foliage alone all Winter (unless it hangs over egress areas) and do the necessary prune back in the late Winter also.  Grasses are the fastest plants to grow back.
Major prune back examples: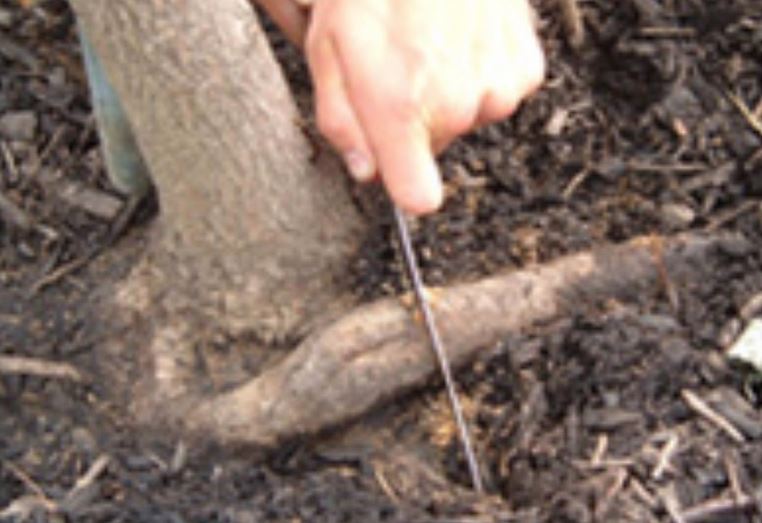 A further note on the Taxus is in order here as they are the most incorrectly pruned shrubs by a wide margin.  Many landscapers and homeowners are afraid to regularly prune back the top sides so that light will reach the lower sides.  This results in a "mushroom like effect" where the top is wider than the bottom and the lower plant devolves into woody branches devoid of foliage.  Left alone to years of poor pruning and there remains only two choices-a severe correction to shape that will take years to fill in or the plant's removal.  Think twice before butchering that hardy evergreen!
         Not every plant is meant for late Winter pruning, in particular Azaleas and Rhododendrons (and others that rely on a hardened bud to bloom in the Spring).  These plants should be severely pruned (if needed) within two weeks of their blooms dying off.  They can be pruned back anytime as long as you are not depending on a full bloom the following Spring-again it is all in the timing.  I prefer to hand prune my Azaleas and Rhododendrons within that two-week window and periodically break off BY HAND the assorted stalks that grow out all season long.  This preserves the buds for bloom on the main canopy and the raw break helps to stunt the branch into giving up its quest to rise above the rest of the main canopy.  A clean cut would merely signal the branch to continue reaching anew for the sky when no one is looking.
         The following diagrams help to illustrate proper reasons for and the results of pruning for trees: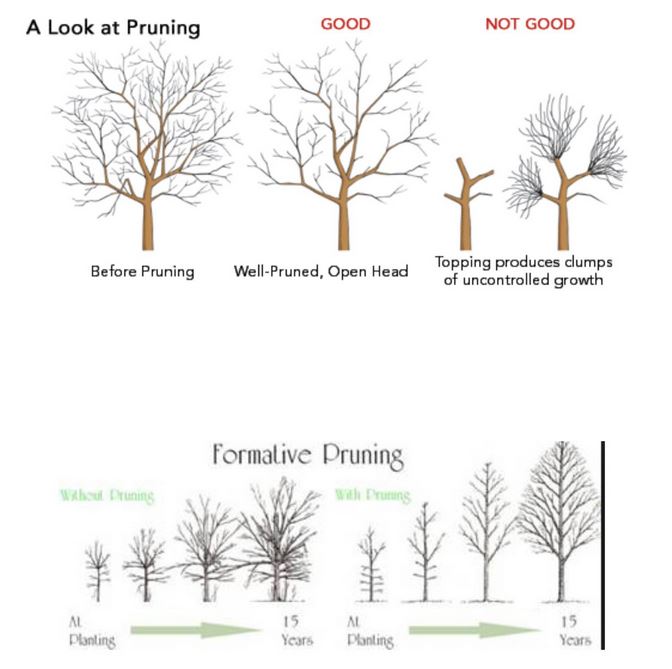 Ornamental shrubs are basically no different than trees-you are pruning to let light in, to shape the plant, to take some weight off and allow the plant to give us the appearance it was meant to have.  Proper pruning will mean healthier landscapes and less replacements needed.  To me this is a no-brainer.  If you are unsure of how to do this vital landscape function there are numerous how to videos out there-and many are plant specific.  The proper tools are not expensive so what's holding you up?  Besides it's a great reason to get some sun and air after being cooped up all Winter!  Plus make sure to keep all pruning blades SHARP-plants recover much faster.
         Some final notes-your plants will want a little food to grow out and shine again-apply a generous layer (about ½ inch) of stabilized organic compost around the base of any ornamental plants out to the diameter of the canopy.  This will slowly enter the soil profile and get down into the root zone and make all your efforts worthwhile.  After applying the compost put a 1.5 to 2-inch layer of quality mulch down and just wait out the new growth!
         For trees you may want to go a bit further with fertilizer spikes or in the worst case a deep root feeding.
I don't recommend deep root feeding ornamentals after a severe pruning as this may cause growth to spike too far and too fast-let the compost do its job.
February 20, 2019
 Keeping Busy with Continuing Education, Recertifications, Trade Shows, Teaching and Webinars
Winter is a great time for me and it should be for everyone in the "Green Trades".  Most of us save those that are in "snow business" have plenty of time on our hands to devote to equipment repair, business building, customer contact and two staples of our trade.
Education and Trade Shows
     Last December I had the privilege of spending a week teaching nationally for the Irrigation Association at our conference in Long Beach CA.  The IA is the worldwide go-to association for all aspects of irrigation such as landscape, golf, sports fields and of course agriculture.  Being invited to teach among such a small and select group of dedicated people was an absolute thrill for me and I look forward to participating in many other national and international education events as well as writing certified courses.  And it's on to Vegas for December 2019!
     This year I spent two days at the New England Water Works recertifying my Backflow testing credentials.  I thought I knew it all yet I picked up some nuggets of wisdom from an old timer that will serve me well into the future.  We truly are never too old to learn. 
         Next up I taught four courses I wrote for the Irrigation Association of New Jersey at our Winter Tech Education conference this past January.  The titles were:
Protect Yourself by Avoiding Legal Landmines: One Contractor's Views on Contracts, Licensing & Other Legal Dealings
Dripline Installation - Design Considerations and Methods for Various Situations Plant, Soil & Turf Types and the Implications for Irrigation Contracting Navigating the HOA Maze: Do's, Don'ts and Methods to Upsell Water Conservation 
 

This March 7th I will also present the last two of the above courses to the Connecticut Irrigation Contractors Association in Meriden.  They are a great bunch to present to and this will be my second appearance there.     My final teaching gig until late Summer Tech will be presenting a webinar for the NJ Landscape Contractors Association March 23 that will be a condensed version of my HOA course. Let's not short change the Trade Shows-there are two coming up.  The NJLCA Education and Trade Show is this February 26-27 at the Secaucus Convention Center and finally the 50th anniversary of the Aquarius Supply House and their trade show March 1 at the Hard Rock Casino in Atlantic City-be there or be square! Winters are a blast-there's nothing quite like it for our industry if you stay engaged.  I urge everyone to take full advantage of all it has to offer!
---
February 17,  2019  

If I didn't see it firsthand, I would have thought this was in another part of the country…
A few days ago, I went to my local Advanced Auto parts store to buy a new battery. As I pulled in, I see three police officers from my town and a county sheriff going through a car and the belongings of its occupants. Both the woman and the man were standing there watching. They were African American.
The officer hands the man his back pack after searching it (more like a lunch bag in size) and lets him enter the store. The man, about 25, is livid. I speak with him as he comes into the store and he explains this is the third time this week this has happened. He is waring an Advanced Employee shirt-he works there! He says each time it is a different set of cops that do this to him and the first time when his boss went out to explain that he works here the police ordered him not to interfere.
As I was leaving, they were still rifling the girlfriend's car. It was going on for more than 20 minutes and they still hadn't found whatever they were after.
These are dark days indeed when a working man gets repeatedly harassed like this in front of his place of employment. The fact that it happened three times in the past week makes no sense at all unless driving to work while African American is now probable cause to stop and search.
When will this end? This is America where unlike most of the rest of the world there is this piece of paper known as the Bill of Rights.  Don't let it fade away.
Mar 24, 2018
To Thatch or Not to Thatch-that isn't even a question!
Last year was a terrible year for lawns. So now is the time to get outside and make 2018 a great year for your lawn!
My post today is about something most have been ignoring for some time - that nasty layer of thatch buildup in your lawn. Thatch is a layer of living and dead material accumulating in your turf which prevents water and lawn treatments from getting to the "root" zone.
Composed of stems, dead crowns, fibers, surface roots and most importantly-LIGNIN. Lignin is an organic polymer contained in the cell walls of most plants which allows them to stand upright instead of laying flat to the ground.
It's highly resistant to normal decay channels (via microorganisms) and can build up rapidly due to poor lawn care habits like frequent light irrigation or too much quick release nitrogen fertilizer.
Thatch is detrimental if the layer is greater than ½ inch thick. When less than ½ inch it provides insulation from cold, provides protection from foot traffic cushions impacts on sports fields and keeps weeds from gaining a foothold in lawns.
At thicknesses greater than ½ inch problems can arise. Insect activity, blocking of lawn treatments from getting into the soil, knotting up turf roots near the surface and triggering lawn "scalping" due to mower wheels sinking into the thatch's spongy layer.
Choosing correct grass varieties keeps thatch minimized. Common turf like Kentucky Blue Grass and Creeping Fescues are prone to faster thatch buildup than Perennial Ryes and Tall Fescues.
Similarly to poor irrigation habits and too much nitrogen is the pH of the soil being too acid for turf (below 5.5), lack of microbial presence from excessive pesticide applications, compacted soils and low earthworm activity also contribute to thatch.
A proper turf management program aims to limit thatch accumulation. This includes mowing only 1/3 of the grass height each cut and mulching clippings. A common misconception is that grass clippings add to the thatch layer-they don't if the layer is less than ½ inch. If the layer is already too thick then it's maybe an issue as microbial activity necessary to break down the clippings would be compromised.
So, you have a thatch problem-what do you do? The best thing is to reduce it mechanically via dethatching and/or aerating. Plan on early Spring or late Summer/early Fall when there is at least six weeks of growing time ahead. Dethatching can be done by hand or with a thatching machine:


Aeration is less damaging to the turf crowns and is the best go to solution:
It breaks the thatch layer allowing oxygen, water, fertilizers and weed pre-emergent treatments to reach the soil layer. A thatcher will not do this.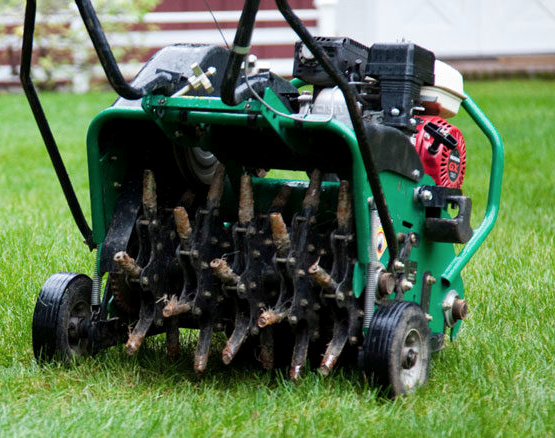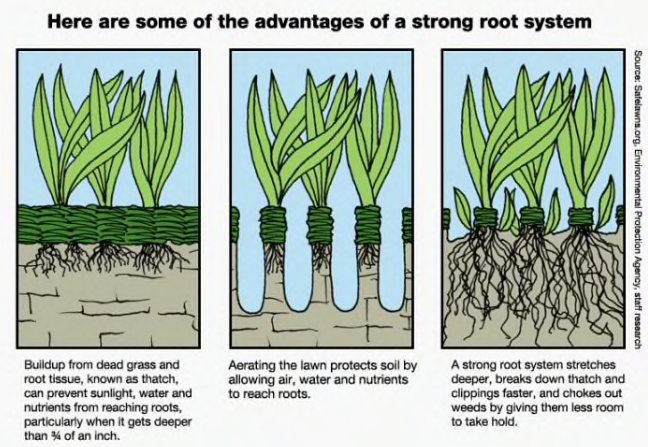 So your path is clear - go with the aeration. And don't forget to over seed with a good Tall Fescue and stay away from that Kentucky Blue Grass!



"SMART IRRIGATION MONTH" in New Jersey is officially the month of JULY. In North Jersey at Raffiani's Automatic Sprinkler Service SMART IRRIGATION MONTH is every month and runs all year long! Make your existing lawn sprinkler system "SMART" by upgrading to the IRRITROL Climate Logic weather sensing system-you will notice a smaller water bill and healthier lawns and gardens! Our mission is to make your NEW or EXISTING lawn sprinkler system efficient, durable and reliable! See our
coupons page
and call us for more information - you'll be glad you did!