Mar 24, 2018
To Thatch or Not to Thatch-that isn't even a question!
Last year was a terrible year for lawns. So now is the time to get outside and make 2018 a great year for your lawn!
My post today is about something most have been ignoring for some time - that nasty layer of thatch buildup in your lawn. Thatch is a layer of living and dead material accumulating in your turf which prevents water and lawn treatments from getting to the "root" zone.
Composed of stems, dead crowns, fibers, surface roots and most importantly-LIGNIN. Lignin is an organic polymer contained in the cell walls of most plants which allows them to stand upright instead of laying flat to the ground.
It's highly resistant to normal decay channels (via microorganisms) and can build up rapidly due to poor lawn care habits like frequent light irrigation or too much quick release nitrogen fertilizer.
Thatch is detrimental if the layer is greater than ½ inch thick. When less than ½ inch it provides insulation from cold, provides protection from foot traffic cushions impacts on sports fields and keeps weeds from gaining a foothold in lawns.
At thicknesses greater than ½ inch problems can arise. Insect activity, blocking of lawn treatments from getting into the soil, knotting up turf roots near the surface and triggering lawn "scalping" due to mower wheels sinking into the thatch's spongy layer.
Choosing correct grass varieties keeps thatch minimized. Common turf like Kentucky Blue Grass and Creeping Fescues are prone to faster thatch buildup than Perennial Ryes and Tall Fescues.
Similarly to poor irrigation habits and too much nitrogen is the pH of the soil being too acid for turf (below 5.5), lack of microbial presence from excessive pesticide applications, compacted soils and low earthworm activity also contribute to thatch.
A proper turf management program aims to limit thatch accumulation. This includes mowing only 1/3 of the grass height each cut and mulching clippings. A common misconception is that grass clippings add to the thatch layer-they don't if the layer is less than ½ inch. If the layer is already too thick then it's maybe an issue as microbial activity necessary to break down the clippings would be compromised.
So, you have a thatch problem-what do you do? The best thing is to reduce it mechanically via dethatching and/or aerating. Plan on early Spring or late Summer/early Fall when there is at least six weeks of growing time ahead. Dethatching can be done by hand or with a thatching machine:


Aeration is less damaging to the turf crowns and is the best go to solution:
It breaks the thatch layer allowing oxygen, water, fertilizers and weed pre-emergent treatments to reach the soil layer. A thatcher will not do this.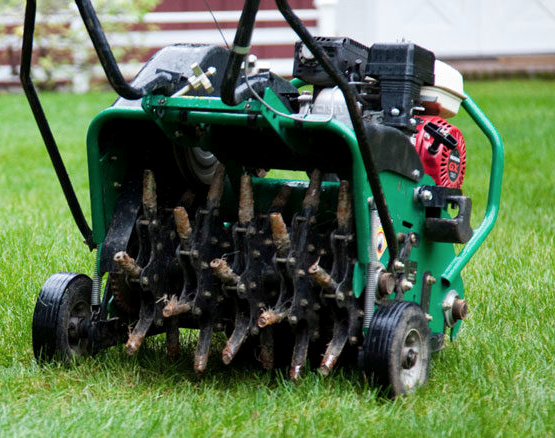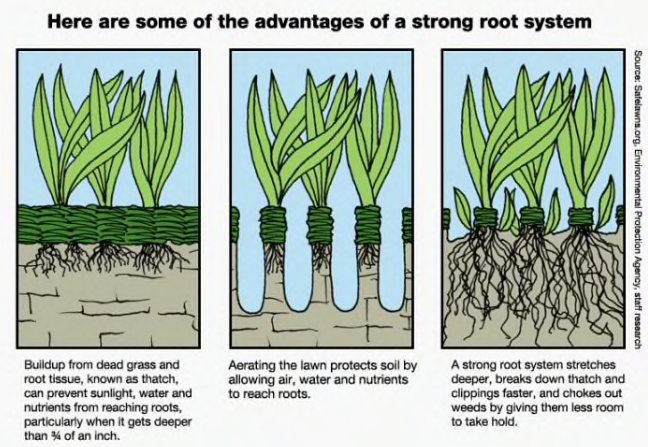 So your path is clear - go with the aeration. And don't forget to over seed with a good Tall Fescue and stay away from that Kentucky Blue Grass!